Vidushi Lalita Shivaram Ubhayaker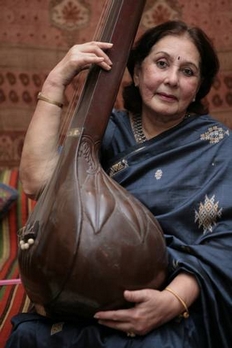 Late Smt. Lalita Ubhayaker is a well known Hindustani Classical vocalist from the Agra Gharana. She belonged to a family distinguished for its cultural accomplishments. She was the daughter of Smt. Paravati Bai Ullal and Shri Sundar Rao Ullal. In the year 1946, she married Shri Shivaram Devarao Ubhayaker from the distinguished family of Dharmaprakash Shri Devarao Shivaram Ubhayaker and Smt. Shantabai Devarao Ubhayaker who were noted for their social, religious and philanthropic activities.

She had her early training at home from her mother and was taught by Shri Chidanand Nagarkar for a year. With assiduous and systematic training by Shri Rama Rao Nayak, the masterly pupil of Ustad Ata Hussain Khan and Swamy Vallabhadas, her innate musical talents blossomed into a shape resplendent with colour and artistry. Constantly, she was a votary of the majestic Agra Gharana. She had the good fortune of learning under the Dagar brothers, the late Ustad Moinuddin Dagar and Ustad Aminuddin Dagar.

Smt. Lalita had a voice that was melodious and delicate, especially in the handling of the subtle nuances, and in line with the traditions of the above School, her leanings are naturally towards spacious and leisurely expositions of Ragas. With this colourful backdrop, her acceleration into a faster tempo done with ease and elegance stood in bold relief. Bhajans were her speciality, wherein she identified herself with their spirit, moved with the moods of the melody and portrayed them with warmth and feeling. Smt. Lalita had the distinction of being a member of the Cultural Delegation that visited Russia and other Eastern European countries in 1954. As a regular participant in the programmes of All India Radio since 1951, she had the distinction of having performed since 1968 in the National Programmes, Radio Sangeet Sammelans and also in many important music festivals of the country. Her concert tours included recitals in West Germany, Denmark, Holland, England, France, Switzerland, Italy and U.S.A.

Apart from her musical background, Smt. Lalita Ubhayaker is well known for her philanthropic activities. She was also the founder of Ashvasan, a Bangalore based volunteer organisation to reach out to the aged and the lonely. She also founded the Smriti-Nandan Cultural Centre, a centre for the promotion of Art and Culture. The Devnandan Ubhayaker Yuva Sangeet Utsav is conducted under the auspices of Smriti-Nandan.
Enjoy some of her music here...